A nursing career at Baystate Health embraces empowerment and advocacy in a culture grounded in safety, quality monitoring and quality improvement. We are creating care delivery systems that are patient-centered; delineate nurses' shared authority and accountability, while partnering with patients, families, and inter-professional teams to impact patient care and outcomes. Our nurses can climb the career ladder while maintaining work-life balance, and our model of shared governance is designed to integrate your core values to achieve quality care. Flexibility in schedule, forgivable loans, generous PTO, and company-matched retirement program are just some of the benefits available to our nursing team members. Our nursing units have been recognized in US World and News Reports, Magnet, Watson Health Top 50 Awards, and Beacon Awards. A nursing career at Baystate Health can provide you with all you are looking for in a new career.
BAYSTATE MEDICAL CENTER NURSING REPORT
This report highlights the achievements of Baystate Medical Center nurses and their continued focus and commitment to safety, quality, patient experience, and value.
Read the Nursing Report or download.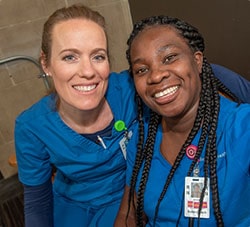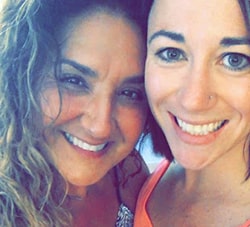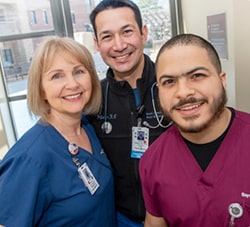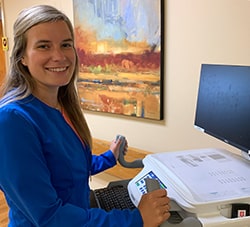 Baystate Health Nurse Residency Program
Baystate Health
Nurse Residency Program
The Baystate Health Nurse Residency Program (BHNRP) is designed for nurses with less than 12 months nursing experience and prepares the novice nurse to be a successful partner on the health care team.
The 10-month program provides a planned, comprehensive period of time during which registered nurses can acquire the knowledge and skills to deliver safe, quality care in a specific clinical setting.
The BHNRP strengthens the relationship between academics and service through professional development, mentorship/peer support, and scholarly inquiry within the Baystate Health system. Learn more here.
Apply Now
Thank you for your interest in a nursing career at Baystate Health. We are extraordinarily proud of the expert care and compassion that our nurses deliver every day. Our nursing leaders appreciate and value each nurses contribution to delivering outstanding care. We demonstrate our gratitude through ensuring that our managers spend time at the bedside to witness, support and recognize your efforts in real time. The managers ensure adequate staffing, provide time to debrief after traumatic situations and listen to understand. Our leaders are committed to ensuring that you have a voice AND it is HEARD. We are extraordinarily proud of receiving our fourth Magnet designation, this means that the nurses at Baystate Health represent only 1% of the hospitals in our country recognized for nursing excellence. Even still, we continue to raise the bar and our leaders foster an environment where career ladder and growth opportunities are easily available and abundant. Whether you are a novice or an expert nurse, you will immediately feel the difference in the practice environment at Baystate Health. Thank you for your interest in our prestigious organization. We look forward to welcoming you to our family.
– Joanne O. Miller DNP, RN, NEA-BC
Chief Nursing Officer/VP Patient Care Services